While there are some excellent natural cosmetic lines around these days, sometimes it's just easier to go old school if you want to avoid all the chemicals in personal care items. And it doesn't get much more back to basics than aburatorigami, or (facial) oil blotting paper.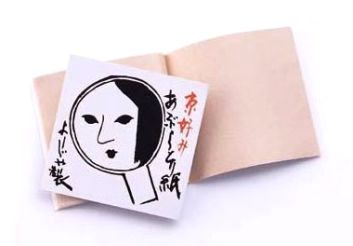 Aburatorigami was popularized here in Kyoto in the 1920s by the Yojiya cosmetic company, though it had been used by noble women for hundreds of years. Yojiya's version was originally used by heavily made-up kabuki actors, geiko and entertainers working in the local pleasure districts but after a few refinements caught on across the country. Many people make the pilgrimage to the main store in Gion to stock up when they visit Kyoto.
Essentially aburatorigami is small sheets of very fine, smooth paper that you lightly press onto the T zone and other parts of your face to absorb excess oil and moisture. Its main advantages are that it apparently does not smudge makeup and is of course very portable. I have to admit it is pretty useful in the incredible humidity we get here in the Summer.
Where and what to buy
If you are visiting Kyoto, it is worth dropping by a Yojiya shop – particularly the one near Ginkakuji on Tetsugaku-no-michi, which has a beautiful old style garden and cafe (links below). Yojiya cosmetics are not completely natural but they have a reputation for following traditional formulas and are a step up from a lot of other stuff. The aburatorigami also comes in flavors such as yuzu (citrus fruit) and macha (green tea).
Of course you can also pick up other brands in pharmacies and convenience stores in Japan and companies such as The Body Shop also have their own lines available internationally.
There are various types available now, including ones that use film-like sheets or are coated with fine powder. It may be better to stay away from these – at a minimum the powder will block your pores. You also don't want to be patting yourself down too often. The oil on your face forms a natural moisturizing and protective layer and your skin may just react by producing a larger volume.
Other details and resources
Home page of Yojiya's English site. The link for the Ginkakuji shop is in the left menu.